Volunteer Opportunities
Please call 504.523.3939 or email barbara@friendsofthecabildo.org
(Tour Guide Volunteering & Docent Volunteering)
sara@friendsofthecabildo.org (1850 House Store Volunteering)
for more information on volunteer opportunities.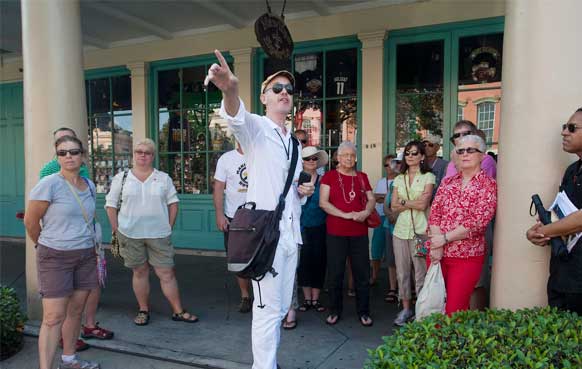 1850 HOUSE MUSEUM STORE
The FOC is looking for volunteers with a passion for Louisiana history as well as an interest in sales, and meeting with the public in a retail store setting. The store supports the mission of the Friends of the Cabildo by selling merchandise that promotes interest in the history, art and culture of Louisiana.
Volunteers are required to:
Greet and assist customers

Answer phone calls

Conduct sales transactions

Promote FOC membership
Volunteers must be able to interact with the public in an outgoing, positive, and gracious customer service manner. Retail experience is a plus.
CABILDO VISITOR INFORMATION DESK
The Visitor Information Desk offers volunteer opportunities for individuals who enjoy interacting with visitors to New Orleans as well as native New Orleanians visiting the five French Quarter Louisiana State Museums. Volunteers provide general information about the museums, exhibits, and events. They also promote FOC's French Quarter Walking Tours and the 1850 House Museum Shop.
1850 HOUSE MUSEUM & CABILDO DOCENTS
Docents are highly trained volunteers who enhance the Museum experience by interpreting Louisiana's unique legacy and traditions. Passionate about history and culture, FOC docents work to instill in guests of all ages a sense of place in the fascinating fabric that is Louisiana, past and present. As a guide, interpreter and teacher, a FOC docent provides personal contact between the visitor and the exhibits, promotes inquiry-based learning, and works alongside museum educators to foster within the community a love of history, zest for learning, and respect for preservation.
FRIENDS OF THE CABILDO OFFICE
The office is looking for volunteers to help the FOC fulfill its mission of supporting the Louisiana State Museum, its projects and properties.
Volunteers may be asked to:
Perform data entry

Recruit FOC members

Disperse FOC marketing materials

Assist with FOC events and programs