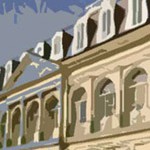 The Louisiana State Museum collects, preserves, and exhibits the art documents, and artifacts that comprise Louisiana's collective memory and reflect the rich history and culture of this great state. The Friends of the Cabildo is a non-profit organization that provides significant financial and volunteer support for the Louisiana State Museum, its projects and its properties. Since incorporating in 1956, the Friends of the Cabildo has grown into a large statewide membership organization, a dynamic and motivating force in broadening and supporting the aims of the Louisiana State Museum.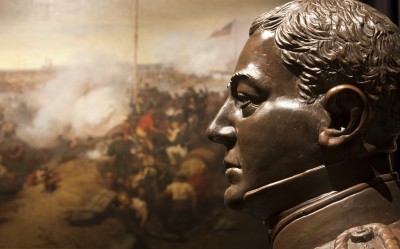 Update: Conservation Completed
Conservation of Bust of Renato Beluche
Renato Beluche was born in New Orleans in 1780 at the house on Dumaine Street currently known as Madame John's Legacy. He served as a pilot's mate for one of the flagships of the Spanish fleet beginning in 1802. By 1805, he was commander of the merchant vessel and was involved with the Lafitte brother's smuggling operation based at Grande Terre. Beginning in 1813, he supported the cause of Venezuelan independence led by Simon Bolivar. Beluche joined Jean Lafitte's Baratarians in support of Andrew Jackson during the Battle of New Orleans, serving as an artillery commander with Dominique You.  He spent most of the remainder of his life championing the Venezuelan cause. The bust is slated for inclusion in the upcoming exhibition focused on the history and significance of the Battle of New Orleans scheduled to open in December 2014.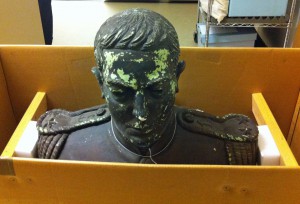 In its present condition, the bust suffers from both surface and structural damage. Conservation treatment involves rectifying minor breaks and old repairs, and addressing the flaking paint. The surface shall be treated to restore the original condition based on historic photographs in the accession files by evening out the tone but preserving the imitated sense of aged bronze patina. The cost of the conservation treatment is estimated at $3,000.