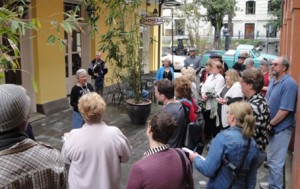 Create your own unique New Orleans experience!
Customized tours of the historic New Orleans area, including cemeteries, private homes, the Garden District, plantations and other specialty tours may be arranged on a group basis.
We also offer multi-lingual tours. In 2011, Friends of the Cabildo provided all tours for the 2011 American Institute of Architects. The Friend's guides provided AIA with 38 customized guided tours as well as 8 self-guided tours. All of these tours can be provided and adapted for private tours.
Please let us know if there are any special tours of the French Quarter that you would like to see us provide.
Please write: Jason Strada
Executive Director
jason@friendsofthecabildo.org
AIA Tour List
Katrina Recovery
Faubourg Marigny
Faubourg St. Marie (Central Business District)
Up the Mighty Mississippi
Three R's: Restoration, Renovation and Rehabilitation
St. Charles Streetcar (Self-Guided)
Lower Garden District (Self-Guided)
Contact the FOC Office for more tours!