The Louisiana State Museum and and Friends of the Cabildo's Second Thursday Lecture Series is held on the second Thursday of each month, beginning at 6 p.m. at the Old U.S. Mint. Every month a different topic is explored from Louisiana's unique history. Programs are free of charge; refreshments courtesy of Friends of the Cabildo. For more information, contact Rachel Strassel at 504.523.3939.
Upcoming Lectures
April 13 @ 6 p.m. | Old U.S. Mint – 400 Esplanade Avenue
Pete Fountain: A New Orleans Icon's Life Half Fast | LSM Jazz Curator David Kunian

Pierre Dewey Fountain, Jr. was born in New Orleans in 1930 (1930-2016) and become one of the most influential musicians to emerge from New Orleans. Fountain began playing clarinet at Esplanade Avenue's McDonough 28 and by his early teens he was playing gigs on Bourbon Street. Later joining the Lawrence Welk Show band and then opening multiple clubs around New Orleans (on Bourbon Street and in the Hilton Riverside Hotel), Fountain recorded over 100 albums, was showcased on the Tonight Show with Johnny Carson 56 times and performed at every Jazz Fest from 1970 until 2014. Along with his fellow music club owner and long-time friend Al Hirt, they were the key influencers of the Traditional New Orleans Jazz Revival of the 1970s and 80s.
Admission is free and open to the public. For more information, contact 504.523.3939.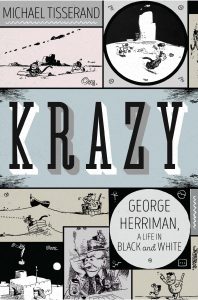 May 11 @ 6 p.m. | Old U.S. Mint – 400 Esplanade Avenue
Krazy: George Herriman, a Life in Black in White | Michael Tisserand 
"Krazy: George Herriman, A Life in Black and White," is the first full biography of the cartoonist who created "Krazy Kat," hailed as the best comic strip of the Twentieth Century. In 1880, Herriman was born into a mixed-race family in the Treme neighborhood and, at the age of ten, moved to Los Angeles, where his family "passed" as white. In "Krazy Kat," Herriman slyly challenged notions of language, identity and reality — all in a comic about a cat, mouse and dog. The product of ten years of research, Michael Tisserand's critically acclaimed book lifts the curtain on Herriman's masterful work and his fascinating life on America's color line. Tisserand's previous books include The Kingdom of Zydeco and the Hurricane Katrina memoir Sugarcane Academy. He lives in New Orleans.
June 8 @ 6 p.m. | Old U.S. Mint – 400 Esplanade Avenue
The One True Barbecue: Fire, Smoke and the Pitmasters Who Cook the Whole Hog | Rien Fertel